Company
Company
SDM has been active in the fire-fighting sector since 2005, by designing, producing and installing hundreds of systems that make use of gas, dry powder, water or foam.
Today we offer a complete range of fire protection and fire suppression products and systems, designed and manufactured with cutting-edge technology and tested at the highest technical level:

- Water spray deluge systems
- Wet and dry sprinkler systems
- Low-, medium-, and high-expansion foam systems
- Water nebulization systems (Water Mist)
- CO2 and inert gas fire suppression systems
- Twin-agent, dry chemical powder and foam combined systems

SDM avail itself of a qualified Technical Staff with more than 30 years of experience in the fire-fighting sector.
Our engineers are of the highest standard and use advanced software tools, dedicated for each project application.
Our fully equipped high-efficiency test laboratory, allows us to offer our customers top quality and efficient products at competitive prices as well as a highly professional technical assistance service throughout their entire life cycle.
News
On the new release of the data sheets, updated to 25.01.2017, you can find four new products, recently introduced in the line of SDM equipment... >>>
SDM has recently developed a new version of the URD in-line mixer with variable capacity, which is now entirely made of stainless steel AISI 304 or 316L... >>>
The new SDM Antincendio website is now online, a multi-platform interactive tool ... >>>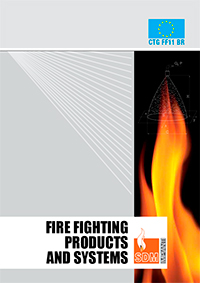 Fire-fighting products and systems Catalogue