Industrial fire extinguishing systems
Industrial fire extinguishing systems
SDM has been active in the fire-fighting sector since 2005, by designing, producing and installing hundreds of fire suppression systems that make use of gas, dry powder, water or foam.
Today we offer a complete range, designed and manufactured at the highest technical level, including nozzles and equipment working on the modern concept of water mist fire suppression. These systems, widely tested and approved for use in marine applications, will lead to a big change also in land-based applications.

Our Technical Staff, with more than 30 years of experience in this field, our modern computer systems, 3D modelling software and a fully equipped high-efficiency test laboratory, allow us to offer our customers top quality and efficient products at competitive prices as well as a highly professional after-sales technical assistance and maintenance service on every type of fire suppression technology.
News
On the new release of the data sheets, updated to 25.01.2017, you can find four new products, recently introduced in the line of SDM equipment... >>>
SDM has recently developed a new version of the URD in-line mixer with variable capacity, which is now entirely made of stainless steel AISI 304 or 316L... >>>
The new SDM Antincendio website is now online, a multi-platform interactive tool ... >>>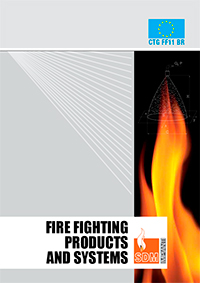 Fire-fighting products and systems Catalogue